School of Economics and Management, Beijing Jiaotong University officially obtained the eligibility of CAMEA Accreditation
On December 17, 2015, China Academic Degrees and Graduate Education Development Center (CDGDC), The National Steering Committee for Graduate Education of Business Administration degree formally approved the evaluation qualification of Chinese Advanced Management Education Accreditation by the On-the-spot investigation and vote of the Certification Committee experts. That means our School officially entered the self-evaluation process of CAMEA. 
After the evaluation qualification, our School will make serious rectification and reform according to the expert opinions, and write a self-evaluation report according to the relevant requirements of CAMEA Accreditation, combined with its standards and self-evaluation report guidance manual, and prepare for on-site certification. 
China's high-quality MBA education certification is organized and carried out by the degree and Postgraduate Education Development Center of the Ministry of Education and the National MBA Education Steering Committee. It is currently the most authoritative MBA education certification in China. The Accreditation is committed to urging business schools to achieve continuous improvement and innovation in education quality through continuous self-reflection and self-summary. The Accreditation process mainly includes evaluation training consultation, submission of application, inspection and confirmation of qualifications, unit self-evaluation, on-site evaluation, result confirmation, continuous improvement and so on.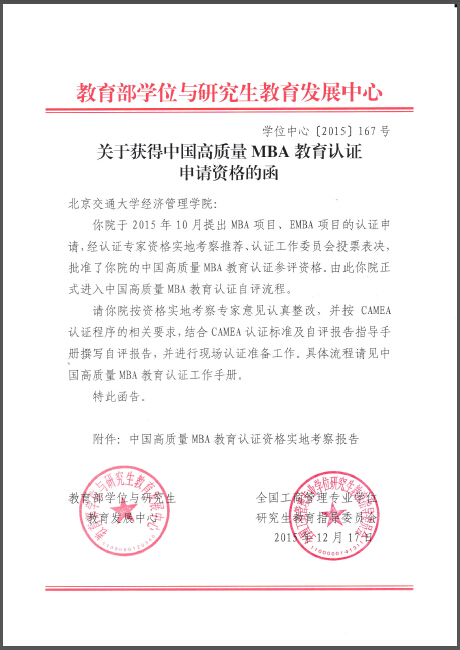 MBA Education Center of School of Economics and Management.
December 21, 2015