Home

>

News & Events

>

Headlines
School of Economics and Management conducts series of seminars entitled ˇ°Sober-minded, looking into the Futureˇ±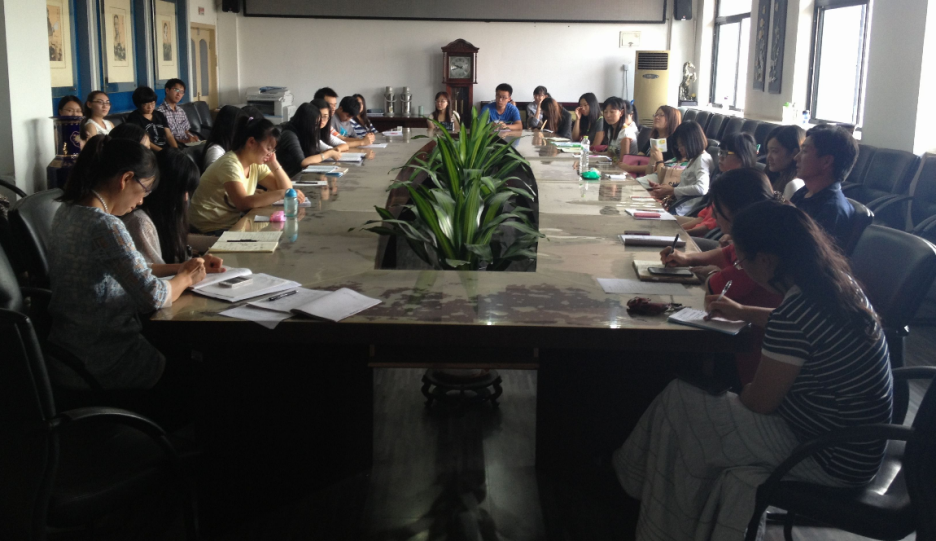 With a view to facilitating new recruits to adapt themselves to the learning and living environment for their master programs and identify their targets and the growth orientation based on their self-awareness to create the positive conditions for the benefit of their future development, Postgraduate Working Group of School of Economics and Management conducted series of seminars entitled "Sober-minded, looking into the Future" by combining the "Party's mass line" work. On the afternoon of September 16, all Grade 2013 postgraduates majoring at Business Administration, Finance, Statistics, Technology Economy and Management under School of Economics and Management gathered together for the first seminar at 611 Conference Hall in East Siyuan Building. Vice President Cui Yongmei and Song Guangysen and Tan Jie from Postgraduate Working Group and other teachers and instructors attended the seminar.
At the seminar, Wu Na from Postgraduate Working Group, first of all, gave an analysis of the overall situation, employment sectors, employers and the future trends in recent five years of the entire school. In the following exchange, students took their respective initiative to take the floor one after another and also consulted with such problems as capability and quality building, study and scientific research, overseas exchange programs, Ph.D pursuit, social practice and emplacement preference and orientation, etc., and the teachers present at the seminar gave them the satisfactory answers by combining their own work experience.
At last, Cui Yongmei summarized the results of the seminar and hoped that all students should maintain the positive and initiative mentality during the program period and pay more attention to the earnest study of the discipline theories and basic knowledge to guard against the desire for quick success and instant benefit, but on the contrary, they should enhance the teamwork with emphasis laid upon the combination of theory with practice and cherish their time on campus and make the most of the resources provided by the school for their self-improvement and head vigorously toward a brighter future.

As planned, in the early period of this semester the Postgraduate Working Group will conduct 10 seminars for all new recruits in 2013. In the next stage, the working group will invite the experts and scholars in the relevant fields to give lectures about the academic pursuit and career scheduling with the postgraduates. In addition, the instructors of the school will give the 1-to-1 employee guidance to the postgraduates to facilitate them to increase their career planning awareness for self-improvement of their comprehensive qualities and capabilities, thus sharpening their employment competitiveness and make greater contributions to the national socioeconomic development.