Home

>

News & Events

>

Headlines
Graduation & Degree-granting Ceremony Held for MBA & ME Graduates of 2013 (Shenzhen Class)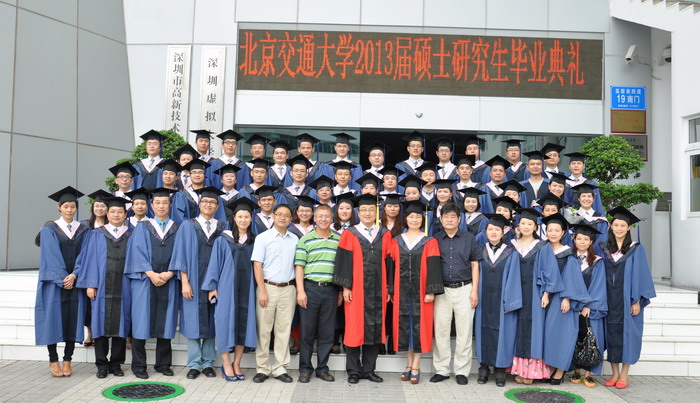 Attended by Guo Xuemeng -- vice-dean of the graduate school and director of development center for in-service professional degree education, Hao Shengyue -- vice-dean of SEM, Lv Haijun -- director of MBA center, Fu Shaochuan -- director of ME center, Bi Xiaomin -- director of teaching center of Shenzhen research institute and the whole staff, and hosted by Wang Xuefeng -- assistant director of ME center, graduation & degree-granting ceremony was held by Beijing Jiaotong University for MBA & ME graduates of 2013 (Shenzhen Class) in Lecture Hall of Shenzhen Virtual University Park the afternoon of August 3, 2013.
In her address, Guo Xuemeng first rendered fervency congratulations to the graduates having successfully won the degree and sent soulful wishes to those about to graduate. She indicated that two years of school life would bring an extremely profound influence on everyone's life and future. The influence might be a kind of spirit, an ability or an idea which would be marked with features of Beijing Jiaotong University and accompany everyone to go forward with the promotion of Alma Mater's spirit. And this should be the essence of two years of learning, which will motivate everyone in the future to get more career accomplishments.
On behalf of SEM of Beijing Jiaotong University, Hao Shengyue extended sincere congratulations to students who will start a new journey of life. He stressed that graduation ceremony held here witnessed everyone's studies gained through two years of hard work, everyone should be grateful for families and teachers at this moment, and everyone should take the harvest day as the starting point of new journey. He hoped all graduates would be favored with a heroic and calm temperament, and lofty sentiments to reach at the summit of life. He wished all graduates to constantly improve themselves, develop, innovate and create a happy life. He also expected all graduates could take the two years of study as a turning point, be ambitious and cherish dreams, be diligent in thinking, active in practice, constantly open up new ways and methods of management, and continue to achieve new performance and achievement on management.
Afterwards, Lv Haijun and Fu Shaochuan respectively read out the lists of students having obtained the degree of MBA or MEA. As the representative of the graduates, Nie Zhuqing delivered a thankful speech to the alma mater and teachers. She said that it was a hard process for students in-service all the way and it was even rare to persist till the end led by dreams. She deputized for all graduates to express gratitude and nostalgic feelings for the alma mater and said that they would make more efforts to honore the alma mater.
Guo Xuemeng and Hao Shengyue awarded all qualified students with diplomas. The graduation ceremony came to an end in the festival jubilation.