Home

>

News & Events

>

Headlines
[Vision of Summer Vacation] Reform of the Pilot School -- Practice & Experience Symposium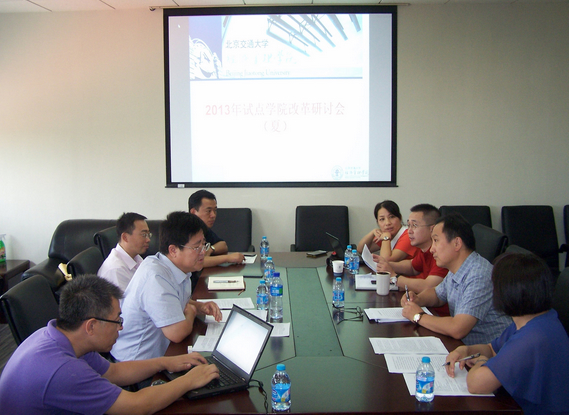 With leadership team of our school, members of the pilot school project and head of propaganda department -- Lan Xiaoxia as participants and dean of our school -- Liu Yanping as the host, practice & experience symposium on reform of the pilot school was held by SEM in room 612 of Siyuan East Building on August 5, 2013, which has summarized and sorted out the measures and ideas for reform of the pilot school to further promote the implementation of reform at the next stage.


Liu Yanping first made a keynote speech. He believed that various reforms for the pilot school had already been into the full play, breakthrough both on practice and in theory should step into a new level by conscientious summary for existed reform process and ideas. He analyzed practice, experience and shortcoming of works done by the pilot school for self-enrollment, personnel system, new-academy training mode and reforms on institutional mechanism, and clarified logical correlation and main features of these reform pilots. On the aspect of personnel system, he took "more concerns of teachers putting on teaching matters" as the key factor, which shall reflect not only the assessment on teaching quantity but also the assessment on teaching quality. On the aspect of new-academy training mode, he emphasized the significance and importance of undergraduate students' participation for the mentor team. On the aspect of institutional mechanism, he said that basic concept of internal administration mechanism shall be further excavated, promoting organic combination of academic power and administrative management on the microcosmic level shall be at the core for filiation-system, which also acted as guiding thought to implement demands of Education Ministry and the school on discipline construction, the powerful measures to strengthen discipline construction and a starting point for reforms on internal administrative mechanism.
On the aspect of self-enrollment, Zhangli further illustrated the reform on self-enrollment, pointing out that our school had implemented further confident measures on innovation, new practice and philosophy on the mode of self-enrollment. During speech on embodiment of reform effects, Cui Yongmei indicated that effects of reform could be reflected not only in teaching construction, discipline construction, social service and reports of various media, but also in teachers, students, management team, enterprises, colleagues and evaluations for influence. Hao Shengyue and Shi Xianliang proposed creative perspectives combining with their own work.
Lan Xiaoxia said in her speech that there were a lot of good reform experience and practice during construction of pilot school, which shall be reviewed and extracted carefully to make them become general demonstration experiences through the pilot, in a way to promote reform and development of our school and exert the radiation effects of the pilot school.
The meeting also deliberated plans and key points for next-step reform of the pilot school.