Home

>

News & Events

>

Headlines
School of Economics and Management, Beijing Jiaotong University contributes to the ¡°Belt and Road¡± initiative
Recently, Sina Education, in the article titled by "School of Economics and Management, Beijing Jiaotong University contributes to 'Belt and Road'', has reported our school¡¯s results in concern of assisting the development of industry as well as ¡°the Belt and Road¡±.
Report link:
http://edu.sina.com.cn/bschool/2017-05-12/doc-ifyfeivp5627331.shtml. (Reproduced by dozens of domestic media )
In June 2016, China Logistics Co., Ltd. signed to join the Chengdu International Railway Port, investing 2 billion RMB to run the Qingbaijiang Project of China-Europe-Africa International Trade and Logistics Hub. The project, with the connection of China-Europe Train(Chengdu-Europe Express) and the port of Antwerp, Belgium as the outside transit hub of international logistics, aims to build an international trade channel across China, Europe, and Africa.
Few people might know that the site selection and layout planing of the logistics hub is done by the team of Dr. Zheng Kai, the young lecturer from School of Economics and Management, Beijing Jiaotong University(SEM, BJTU). And that is only one epitome of our school¡¯s full service in the industrial development and the Belt and Road.
Cultivate Professional Talents: to Experience the Generation Change in the Century
SEM, loaded with historical accumulation, is initiative in the early period of China¡¯s management course. In 1909, the establishment of Beijing Railway Management Training Institute, the predecessor of BJTU, proclaimed the first institution of higher education with managing feature in the history of China, marking the initiation of China's training of senior management talents, which accounted for the groundbreaking inauguration for the subject¡¯s gradual formation. At that time, there was no relevant experience in school-running across the country, and the school employed a large number of foreign textbooks and hired foreign teachers at the very beginning of its establishment. As early as 1917, we have begun to send outstanding students to study abroad and have cultivated China's first batch of management elites, such as Zhao Chuanyun, Xu Jing, Yang Ruimei. In the early days of new China, the school also selected excellent teachers to go to the Soviet Union for advanced study and after coming back they became the backbone force for the development of various disciplines, and among them there were numerous outstanding models, including Fang Ju, Xu Qingbin, Chen Jingyan and so on.
The internationalization in talent training has been a distinctive feature since the establishment. And from then on, such characteristic continue to manifest, especially in economics and management subjects. As one of the most internationalized schools in the university, we spare no efforts in improving the internalization level of talent training. Now in the new era, particularly in the context of economic globalization and the Belt and Road, when China¡¯s economy is developing in the world and Chinese companies are participating in the process of global operation, we face a large number of opportunities together with increasing potential risks and challenges. To provide a smart of management talents and business elites with international vision and relevant knowledge to engage in global affairs and international competes has become an urgent need of our country, industry and enterprises. Therefore, we have set up 55 cooperation projects with more than 30 well-known international institutions like Lancaster University in the UK, Waseda University in Japan, Polytechnic University of Milan in Italy, Rochester Institute of Technology in the US. In 2016, we have sent 153 students for international communication, and 109 students have gone abroad to pursue their master and doctoral degree. What¡¯smore, we have given 213 receptions for foreign students visiting China for exchange. The multilateral global connections and comprehensive cooperation in projects bring our students various and accessible choices for international education.
Apart from the attention on the international cultivation for intellects at home, we have also made great effort to the training of oversea talents. Presently, there are nearly 160 foreign students studying at our school, which offers 5 corresponding projects taught in English that strongly guarantees the quality of education. In 2015, Beijing Jiaotong University and St. Petersburg State Transport University have signed an agreement for the joint establishment of Sino-Russian Transportation College, and our school¡¯s undergraduate course of Logistics Management has been listed as one of the first four experimental courses, the one lately in March 2017 chosen by more than half of Russian students who have come to our campus for their academic career. In 2016, we have accomplished ranks of international training tasks from State Railway of Thailand, the Ministry of Transport, Chiang Mai University and so on. Commissioned by the Ministry of Commerce, in this June we will also host the "African Railway Construction and Management Seminar" to complete the training of approximately 30 African officials of railway operation and management.
"It can be said that in the difficult and developing period, our business education has been indebted to the learning and reference from the advanced experience of foreign universities. Then, when we have obtained leading progresses in certain areas, similarly we have the responsibility and obligation to export our technology and experience to other countries, especially developing countries, to help them cultivate talents and achieve growth, "says Zhang Qiusheng, Dean of SEM. His words precisely reflects the core spirit of the Belt and Road initiative.
Devote Business Wisdom: to Listen and Respond to the Sound from Industry
On April 21th, 2017, domestic and foreign scholars, in the third meeting of International Advisory Committee hosted by SEM, exchanging ideas about the opportunities of business schools in the context of the Belt and Road initiative
"To fulfill universities¡¯ role in the Belt and Road initiative is to build the commerce school into 'Stanford Graduate School of Business' in the Belt and Road, and correspondingly to solve the problems in commercial planing and to form sustainable chain of innovation and market." This is said by Liu Yanhuan, advisory committee and former Vice Minister of Science and Technology, in the third meeting of International Advisory Committee, an impressive speech for all the attendants.
In 2013, as one of the 17 pilot colleges approved by the Ministry of Education, SEM, BJTU has early set up an international advisory committee among domestic secondary colleges. Even though it is named as ¡°international¡±, one distinctive feature of our school is that the members are not exclusive for foreign experts. The new list of the committee, besides the school deans of world-renowned universities, such as Lancaster University, Polytechnic University of Milan, University of Victoria in Canada and The Hong Kong Polytechnic University, includes important figures like Li Pumin, Secretary-General of National Development and Reform Commission, Liu Yanhua, former Vice Minister of Science and Technology, Liuhua Long, Chairman of CRRC Corporation Limited, Xue Xiaolin, Global Vice President of Amazon and many other persons in the field of government and commerce.
In this regard, Zhang Qiusheng explains that the internationalization of China¡¯s business education is not only a process of China's going to the world, but also vice versa. We need to interface with international standards and meanwhile integrate the education with local industry to realize the comprehensive combination of internationalization, and thus an optimal way of development can be achieved. "Consequently, we should learn to listen to the voices from the industries and pay respect to their views."
Learning to listen is for a better response. On March 28, 2015, National Development and Reform Commission, Ministry of Foreign Affairs and Ministry of Commerce jointly issued "the vision and action in promotion of ¡®the Belt and Road¡¯¡±. And in May, we has set up Silk Road Research Center, aiming to provide intellectual support for governments at all levels, social and public institutions as well as enterprises, build a brand new and top-rank think tank for the Silk Road. In June, as founding members, our school, together with Rotterdam School of Management, Erasmus University, Netherlands, has co-founded Global Supply Chain and Logistics Institute, focused on the frontier study of this field, building a key brainpower for governments, industry and enterprises. On this basis, in July 2016, together with China Economic Information Network of the National Information Center, China International Cooperation Center, Engineering Management Department of Chinese Academy of Engineering and other organizations, we have initiated the establishment of ¡°Belt and Road¡± Industrial Research Institute, aimed at providing full-round counseling service and market guidance of law, policy, standards, information, technology, capital, market and talent for the interaction of domestic and foreign industries. At present, we have engaged the first expert committee, consisting of more than 20 domestic top specialist in area of industry, academia and politics experts, in the connection to international institutes and think tanks of the United States, France, Spain, Indonesia, Singapore, Malaysia, Kazakhstan, Mongolia, Pakistan and other countries and regions.
If the Belt and Road Initiative is a great step of China¡¯s layout in global development, then SEM, BJTU is in full readiness to play the ¡°National Team¡± of business schools.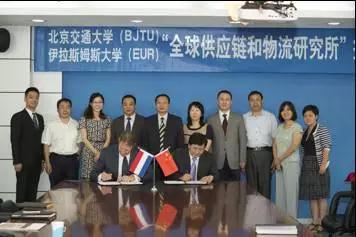 On June 17th, 2015, as founding members, Rotterdam School of Management, Erasmus University, Netherlands and SEM co-founding Global Supply Chain and Logistics Institute
On July 16th, 2016, SEM establishing ¡°Belt and Road¡± Industrial Research Institute, aimed at providing full-round counseling service and market guidance for the interaction of basic industries at home and abroad
Service in Industry Development: to Be the Pioneer
SEM, attaining the progress with the university and rooted in the profound industry background of BJTU and the unique characteristics of its subjects, is naturally in close connection with the industries. During period of ¡°The Twelfth Five-Year¡±, our teachers in SEM has hosted and participated more than 1,300 projects, and the annual funds for scientific research has exceeded 50,000,000 RMB, preceding among domestic counterparts. To build a leading business school in China¡¯s industry development has become our crew¡¯s solid consensus, and that goal is also included in ¡°The Thirteen Five-Year Plan¡±.
Before the third meeting of International Advisory Committee, Zhang Qiusheng has instructed the scientific research departments to do some statistical analysis of related data, and the report files put on his desk has eventually surprised him¡ªwithin two years, the projects that directly related to the Belt and Road hosted by SEM researchers have accumulated into more than 20 items, and the amount of those participated by our staff are even greater. In addition to ¡°the feasibility of China-Europe-Africa international trade and logistics hub¡±, the project undertaken by Dr. Zheng Kai, there are other representative ones like State Administration of Foreign Experts Affairs¡¯ Importation of Foreign Intelligence of Education, Science, Culture and Public Health for the Belt and Road, a project hosted by Zhang himself and the Sino-EU International Cooperation Research in the Seventh Framework Programme hosted by Professor Shi Xianliang. For the former one¡¯s momentous process, in the school¡¯s meeting of International Advisory Committee, the relevant officials from State Administration of Foreign Experts Affairs have awarded appointment letter of the project to 11 foreign experts. As to the latter, the project is jointly operated by 2 Chinese and 6 European institutions, and it is our SEM team of BJTU that is responsible for the application of logistics information technology in the realization of container supply chain integration. Recently, the results have been fruitful, and 11 members have gone abroad for cooperation and communication, while the project team has published 20 papers in international journals.
Some of the outcome has already begun to have an significant impact on industry. In August 2016, approved by the Ministry of Housing and Urban-Rural Development, with BJTU as the first editorial publisher and Professor Liu Yisheng of SEM as the chef editor, the book Technical Code for Risk Assessment of International Engineering(TG/CCMSA001-2016) has been published under association standards. In the background that the Belt and Road is extensively implementing while the contracting market for international engineering increase and at the same time the risk also become more intractable, this code, providing guidance for international engineering contractors to identify and evaluate such risk, is of great reference value to strengthen the risk management in international engineering. In March 2017, High Speed Rails And New Structure Of Socio-economic Development, with Professor Lin Xiaoyan of SEM as the chief editor, has been republished. From multiple perspectives, the book illustrates the important role of high-speed railway in the improvement of regional traffic structure and economic and social development. In the Belt and Road context, this publication particularly highlights its attraction, winning recognition from experts in and out of the industry. Sun Yongfu, member of Chinese Academy of Engineering and former Vice Minister of Railways, says in preface for the second edition, "This is an exceptional book that systematically expounds the relations between high-speed railways and regional economies and is of great reference for those who want to have a throughout perception of the new changes and new structures brought by the development of China's high-speed railway."
For every institution in China, to commit our full enthusiasm to the country¡¯s Belt and Road Initiative is an imperative opportunity and more of an essential mission. In future, SEM will continue to give complete play to our unique advantages in the close connection to oversea universities and institutes as well as local industries and enterprises and to the improvement of internalization level in all round functions and to the quality of open-running education. In such a process, we will also continue to promote the comprehensive combination between higher education and industrial service, applying our business wisdom to approach the new ¡°Silk Road¡± dream.