Home

>

News & Events

>

Headlines
Visit of Beijing Jiaotong University MBA to enterprises: entering Beijing Shunxin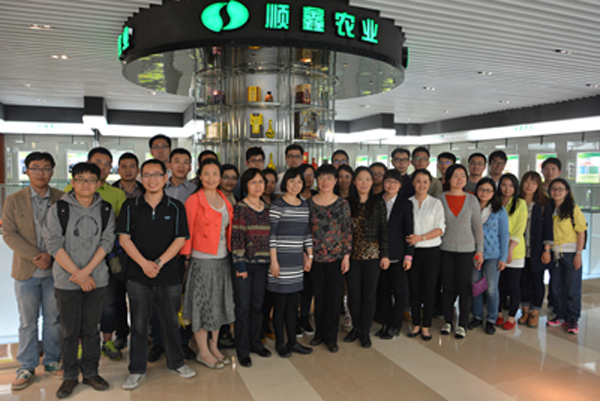 On April 24, 2015, more than 40 students and teachers of Class 2014 visited Beijing Shunxin Agriculture Development Group Co., Ltd for lessons, under the leadership of Associate Prof. Zuo Li, Director of Center of MBA Education.

The teachers and students visited Shunxin Agricultural Pengcheng Food Affiliated Company, Chuangxin Food Affiliated Company and Niulanshan Distillery Factory of Beijing Shunxin Agriculture Development Group Co., Ltd. They saw modern workshops vividly and introduction of Shunxin staff gave them a more comprehensive knowledge of Shunxin. Then, they invited Director Yang Pan of Department of Food, Drug and Brand of Shunxin to discuss deeply with the MBA students. During the discussion, students spoke actively and discussed deeply based on the condition of the enterprise with Shunxin staff on aspects such as e-commerce operating model of agricultural products, marketing model of Pengcheng Company, strategic transformation of investment and holding of Shunxin Group, core advantages of competence of enterprise, human resources management for the sale goal of 40 billion Yuan, and building of enterprise culture after the industrialization of Shunxin Group.

In discussion, Director Zuo Li said that the Center of MBA Education appreciated the careful arrangement of Beijing Shunxin Agriculture Development Group Co., Ltd., which was a large and powerful state-owned enterprise group with abundant of managing experience and many social responsibilities deserving learning of the teachers and students. She hoped that there would be opportunities for the students to contribute to Shunxin Group and help solve some problems Shunxin was faced with.

"Learn from books and practice in life." This visit to enterprise strengthened MBA practice teaching of our school, extended teaching platform out of school, encouraged students to practice what they learned in class in enterprises while learning professional knowledge.
Center of MBA Education
April 26, 2015