Home

>

News & Events

>

Headlines
School of Economics and Management held the 7th case salon of economics and management successfully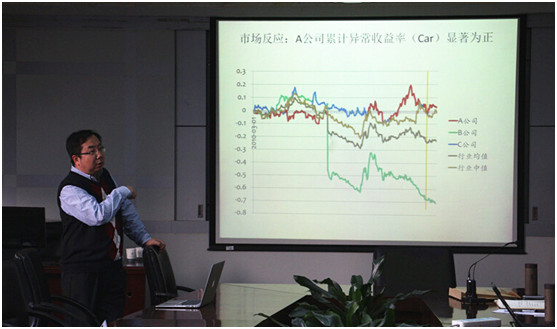 On the afternoon of April 9, 2015, the Case Center of our school held the 7th case salon of economics and management. This salon invited Prof. Zheng Zhigang, Director of Department of Applied Finance of the School of Finance of the Remin University of China, to communicate with teachers of our school.

Prof. Zheng Zhigang gave a lecture with the theme of "Selection, teaching and research of cases – taking case study on company governance as an example". At first, he elaborated the value of case study from three aspects. Then he made some analysis about how to recognize and select case company, how to do case study, how to do case teaching and how to evaluate case studies. He gave further explanations of the above four aspects, taking his own essay "The Political Promotion of the SOE Executives: a Case Study on a Certain Corporation of a Certain Province" as an example. After the lecture, Prof. Zheng Zhigang had a heated exchange with participating teachers of our school.

This salon was held in Meeting Room 611, and have more than 20 teachers participated, including Ye Shujun, Ma Zhong, Gu Yuanxun, etc.