Home

>

News & Events

>

Headlines
The 7th International Conference on Transport and Space-time Economics of Beijing Jiaotong University Published in QS WOWNEWS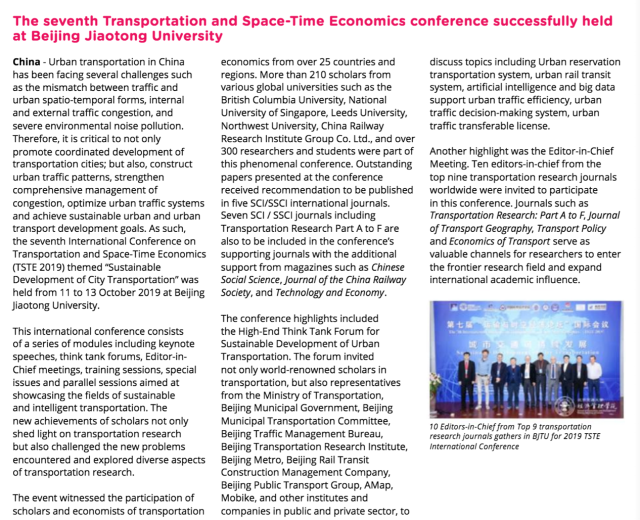 Links: https://content.qs.com/wownews/latest/index.html#page=22
WOWNEWS, official QS quarterly published a newsletter in the February edition of 2020, reporting on the 7th International Conference on Transport and Space-time Economics (TSTE) hosted by our university. This report introduces the grand occasion of TSTE International Conference held by our university, focuses on the high-end think tank forum of TSTE, the editor in chief face-to-face meeting and other modules, and shows the important role of TSTE in promoting international academic exchanges in the field of transportation and serving the development of China¡¯s transportation.
QS (Quacquarelli Symonds) is a famous global high education research institution. The QS World University ranking has grown into the most popular data source of university performance comparison in the world.
QSWOWNEWS is a quarterly news magazine of QS. It mainly introduces the latest progress and achievements of world-famous universities in natural science, humanities and other fields. It also focuses on the outstanding achievements of high education, including decision-making, bilateral and multilateral cooperation and international conferences. It is an effective platform for well-known universities to publicize their comprehensive strength, expand their international influence and enhance their international popularity.
The 7th International Conference on Transport and Space-time Economics was hosted by School of Economics and Management, Beijing Jiaotong University from October 11 to 13, 2019. This international conference had many modules including keynote speech, think tank forum, editor in chief face-to-face meeting, training school, special topic and parallel forum. 212 transport economists and scholars from 25 countries and regions at home and abroad registered to attend the conference. The conference invited the editors in chief from the world's top 9 transportation research journals as keynote speakers, and recommended excellent papers to 5 SCI / SSCI international journals for publication.