Home

>

News & Events

>

Headlines
The 2018 Third Quarterly Work Report of SEM was released

2018 Third Quarterly Work Report of SEM BJTU.pdf
Recently, SEM released the 2018 Third Quarterly Work Report, which comprehensively presented the progress and achievements of the school from July to September.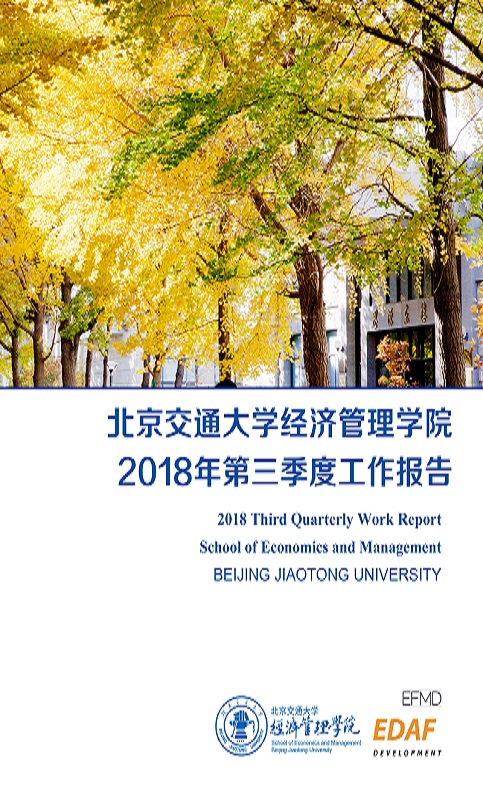 Among all the progress and achievements, "8th Summer Camp for Outstanding Undergraduates in China", the first National Education Forum of Engineering Master and ¡°2018 The Doctoral Summer School of China-Europe on Logistics, Information, Management and Service Science¡±, are beneficial to improve a deeper understanding of the discipline characteristics of SEM for more outstanding students from both domestic and abroad. Moreover, students of SEM won the third place in the 6th National Management Case Classic Competition; the team of faculty and students in the logistics department completed the project entrusted by SF Express Group and won high praise; seven cases were selected in the 9th National ¡°100 Excellent Management Cases¡±; the first phase of Beijing Logistics Information Research Base; what mentioned above has achieved excellent results, fully demonstrating the strength of our academic research. Additionally, SEM has successfully held the LISS 2018 and IEIS 2018 International Academic Annual Conference, and established a ¡°Knowledge Management and Innovation Laboratory¡± and a ¡°Institute of Logistics Innovation¡±, successfully held the Seminar on Hungary-Serbia Railway, which has thus further strengthened our international exchanges and corporate links. Furthermore, in the 2018 Shanghai Ranking¡¯s Global Ranking of Academic Subjects, the discipline of Management of SEM ranks in the top 200 in the world, and the discipline of Economics ranks in the top 400 in the world, which reaches a new high brand influence.
Compared with the same period of last year, SEM has made remarkable progress in personnel training, scientific research, corporate links and internationalization in the third quarter of this year, and the achievements have become more prominent.