Home

>

News & Events

>

Headlines
Regular Alumni Liaison Working Group Inauguration & 1st Meeting of School of Economics and Management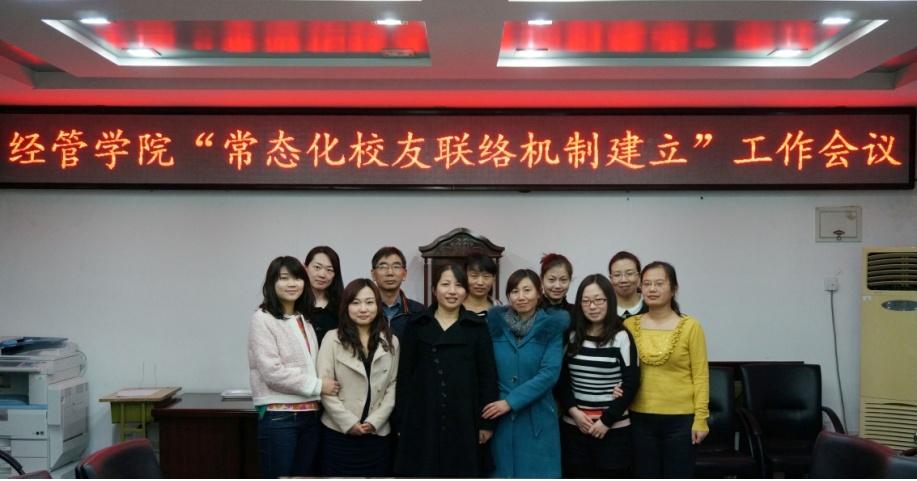 On the morning of March 20, 2014, Regular Alumni Liaison Working Group Inauguration & 1st Meeting of School of Economics and Management were held in RM 611 of East Siyuan Building.

Associate Dean Cui Yongmei elaborated on the definition of the Alumni scope and the importance of strengthening the Alumni regular service and liaison, particularly introducing the building of the school's regular Alumni liaison mechanism, which shall adopt the liaison man responsibility system under the guidance of the director (departmental supervisor or chief leader). The Regular Alumni Liaison Working Group will consist of Social Service and Alumni Office, EMBA Center, MBA Center, Master of Engineering Center, MPAcc Center, EDP Center, MPA Center, International Exchange Center, Youth League Committee, Postgraduate Work Group, Postdoctoral Office and School Office, etc. The basic duties of its members are to collect and sort out the Alumni information and jointly organize the Alumni activities.



The key work of Regular Alumni Liaison Working Group for the next step is fully discussed at the meeting. It is necessary to follow up such relevant work as: building the school alumni information base, managing the Alumni confidential information, co-sponsoring the Alumni activities, promoting Alumni Weixin Platform and Electronic Journal, cultivating the Alumni awareness for the campus students, etc.
Regular Alumni Liaison Mechanism will be thus streamlined with specific targets, regular activity and clear responsibilities, so the establishment of such a mechanism can fully and efficiently promote the Alumni service and liaison and strengthen the communication between the school and Alumni and among Alumni to achieve the mutual sharing and unified management of the Alumni resources, thus effectively serving the school talent cultivation, scientific research and social service work.