Home

>

News & Events

>

Headlines
IVOX officials visit School of Economics and Management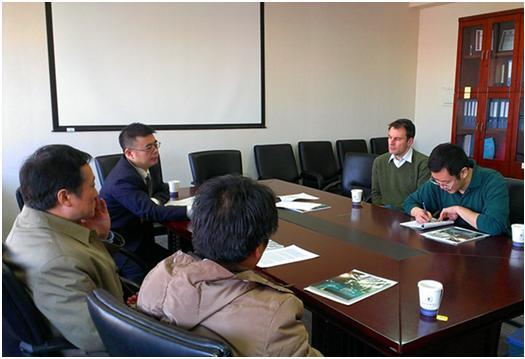 On February 27, Dr. Alexander Juschus, IVOX CEO, and Mr. Wang Weiwei, director Asia-pacific Region of the company, paid a visit to our school, exchanging ideas with teachers of our school at Sidong Meeting Room 612. Zhang Qiusheng, Dean of the school, Prof. Ma Zhong, Associate Professor Liu Dehong were present at the seminar, conducting the exchange and discussion over the corporate governance service provided by financial investment institutions to listed companies.
Dean Zhang Qiusheng, first of all, presented a basic survey of
School of Economics
and Management to the visiting guests from IVOX. Both sides exchanged ideas about the macro background of the corporate governance and also conducted the profound and professional discussion over such problems as CGINK, weight ratio and data quality, etc.
IVOX is a professional service agency effectively providing the large financial institutional investors with the high-end corporate governance for listed companies, devoted to facilitating shareholders to understand how to help the enterprises to obtain better business performances rather than how to engage in business activities. Due to the economic, social and cultural difference and the different course of the historical evolution, there are various corporate governance structures in different countries and regions. IVOX has its own comparatively mature model in terms of the corporate governance methodologies among the developed countries, particularly in Europe and America, etc., however, in view of China, it is likely that there should be more adjustments in this respect, therefore IVOX needs more approaches to have the better understanding of the corporate governance in China.
Both sides expressed their hope that they could further deepen the research and cooperation, particularly conducting the research of the framework of the corporate governance methodologies, the corporate governance cases so as to make the joint efforts to strongly promote the better development of
China
's corporate governance.