Home

>

News & Events

>

Headlines
Students from our school demonstrated better performance at 7th ˇ°Franshion Properties Cupˇ± National College Student Real Estate Planning Competition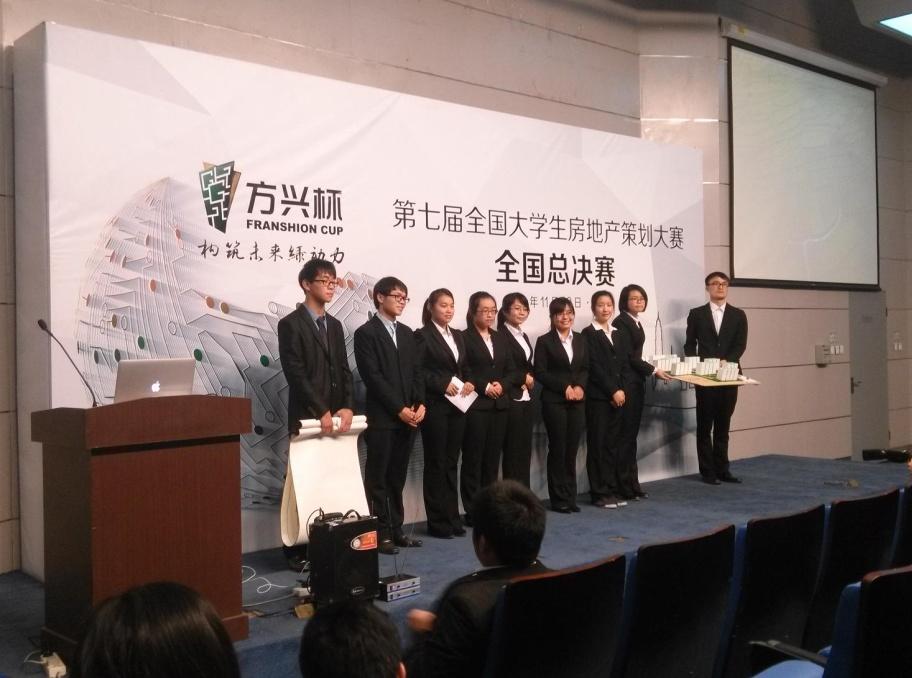 On the afternoon of November 30, 2013, 7th "Franshion Properties Cup" National College Student Real Estate Planning Competition smoothly kicked off at Beijing University of Civil Engineering and Architecture. Candidates from our school obtained the satisfactory results in this competition, which was convened against the backdrop of Low Carbon Economy with the theme of "building the future green power" to give full scope to the intelligence and talents of the students at universities nationwide and effectively serve the new development trend of China's real estate sectors.


The competition lasted two months from the start-up to the finals, attracting students from more than 50 universities with 146 teams presenting their competition works. Through the level-by-level screening and selection and the strict evaluation by experts, 28 teams from 16

universities, mainly involving BJTU, Beijing University of Civil Engineering and Architecture, Tsinghua University, Chongqing University, etc., edged their way into the finals. With the strong support from Prof. Liu Yisheng, dean of Engineering Management Department of our school and spearheaded by Engineering Management Specialty, three teams out of our six competition teams composed of professionally excellent students from architecture art, marketing and accounting specialties got to the finals, thus having won three first prizes. Another team from our school won the third prize in the North China Competition Area.


National College Student Real Estate Planning Competition is closely connected with the theme of our real estate development times and has built up a platform for the students majoring at the real estate specialties at universities to distinguish themselves for their professional talents and skills. And this is the sixth session with fruitful achievements and performances. This competition was initiated on September 28, 2013, co-sponsored by Engineering Management Professional Teaching Steering Committee, CHINA ASSOCIATION OF CONSTRUCTION EDUCATION (CACE), CHINA REAL ESTATE ASSOCIATION (CREA),

China

Real Estate Planners Association,

crep.edu2k.com, organized by Beijing University of Civil Engineering and Architecture, and undertaken by Franshion Properties (China) Co., Ltd. The finals were divided into two phases: Phase I: the Round Robin, with 28 teams for the competition, 10 teams of which were fortunate in getting into the next phase for competition; Phase 2: the fierce competition with ten teams vying for the special titles. All teams from our school gave full play to the advantages of the real estate related specialties of our school. With the joint efforts, we ultimately won extraordinary performances with three participating teams getting into the finals.


In this competition, our students scored the satisfactory results and better performances, particularly through the interdisciplinary cooperation, all participants enjoyed the mutual learning and pooled together their respective talents and mentality by integrating their knowledge with specific actions to increase their knowledge range and enhance their skills and abilities.