Home

>

News & Events

>

Headlines
Transportation and Spatial and Temporal Forum Activities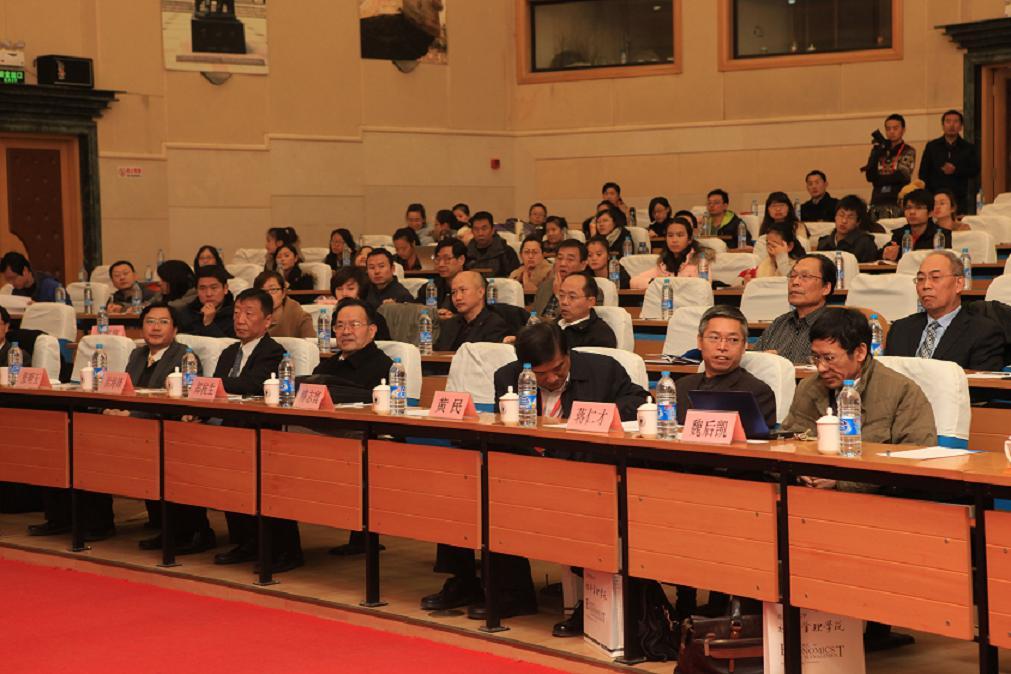 On November 23, 2013, the 1st Transportation and Spatial and Temporal Forum entitled as"New Urbanization & Ecological Transportation Construction" was grandly convened at Science Hall in our school. This forum is sponsored by School of Economics and Management, BJTU, undertaken by Economics College and co-organized by

Chinese Society of Technology Economics (CSTE),

Professional Committee of Transportation Technical Economics, Urbanization Research Institute of School of Economics and Management, BJTU, Center for Infrastructure Research
£¨
CIR
£©
, BJTU, Beijing Traffic Development Research Base, Beijing Industrial Safety and Development Research Base, Beijing Humanistic Transport, Scientific Transport and Green Transport Research Base.
Fu Zhihuan the academician of the Chinese Academy of Engineering and former minister of the original Ministry of Railway, Zheng Hangsheng, first class professor and former president of Renmin University of China, Huang Min,Director General of Department of Basic Industries , National Development and Reform Commission, Xu Haifeng, general manager of Beijing-Shanghai High Speed Railway Co.
£¬
Ltd., Jiang Rencai, CEO of Daimler Greater China Ltd., Ying Jiangqian, Prof. of Gifu University, Japan, Wei houkai, Prof. of Chinese Academy of Social Sciences (CASS), Wang Dashu, Prof. of
School of Economics and Management, BJTU, and other experts, scholars from the Research institutes of

Chinese Society of Technology Economics (CSTE),

Professional Committee of Transportation Technical Economics, Peking University, Tianjin University, Southwest Jiaotong University, and Sun Shouguang, deputy president of our school, Zhang Mingyu, CPC party secretary of School of Economics and Management, Prof. Yuan Lunqu, Counselor of the State Council and approximately 200 teachers and students were present at the forum. The opening ceremony of the forum was presided over by Shi Xianliang, deputy president of our school.
Mr. Sun Shouguang gave the warm welcome in his speech to all experts and scholars present at the forum on behalf of the school. He hoped that this Transportation and Spatial and Temporal Forum could serve a vital platform and a bridge for the extensive exchange of ideas among research staffs in the relevant fields to learn the strengths and make up for their deficiencies among them to mutually promote the communication and improvement in research, thus giving full scope to the industrial intelligence and boosting the extensive communication. He pointed out, this forum will provide BJTU an opportunity for the high-level learning and exchange and will be of great significance to promote the building of our school's economics, transportation and management disciplines and the talent cultivation and training of our school.
Zhang Mingyu also delivered a speech, remarking that this forum centered on the theme of "New Urbanization & Ecological Transportation Construction" and would conduct an in-depth study and discussion of a series of key and hot issues related to the transportation economy and industrial economics and other relevant sectors, so it was of great practical significance. He also wished a successful forum with the fruitful results, which would greatly lend itself to the development of China's integrated transport and the industrial economy.
Prof. Rong Chaohe, a member of Subject Review Group of The State Council, Prof. Zhao Jian, chief expert of Urbanization Research Institute presided over the meetings of the main venue for the first and second phase. 40-odd special guests from various research institutions and different areas conducted the group-based discussion and exchange with nearly 200 teachers and students by focusing on such topics as "New Urbanization", "Transport Economy" and "Investment and Financing", etc. The speakers presented the vivid and wonderful speeches and the audience eagerly raised their respective questions, so all participants were merrily immersed in an ardent academic atmosphere.
At the closing ceremony, Prof. Yuan Lunqu presented a short summary about the new trend facing China's new urbanization and ecological Transportation according to the speeches of the experts present at the forum and expressed thanks to all guests and announced the successful conclusion of this forum.