Home

>

News & Events

>

Headlines
School of Business Administration Carried Out ˇ°Health Cupˇ± Series Activities and Held the First Table Tennis Matches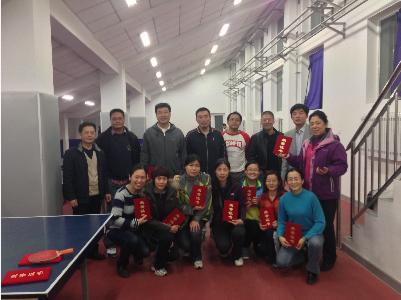 To respond to the call for national fitness, enrich the staff's cultural life after work, deepen the communication between teachers, and enhance the cohesion and centripetal force of the faculty, School of Business Administration carried out the "Health Cup" series sports events. In the afternoon of Nov. 14th, the first event of the series of sports contests——Table Tennis Matches was held in the stadium of the school. This event took "charming table tennis units us" as theme, and had knockout matches, semifinals and finals of men's and women's singles and mixed doubles. Over 20 teachers attended this event in total.


In the matches, every player showed their spirit of fighting for the first place indomitably. Through tough competition, Wang Xuefeng and Xiao Xiang respectively won the first place in men's singles and women's singles; Zhang Wensong and Li Qun won the second place in men's singles, and Li Yuanhui and Jin Zhucui won the second place in women's singles. The subsequent mixed doubles turned up the heat of the activity. 8 pairs of players matched by drawing lots played in the mixed doubles. In the end, Zhang Wensong and Xiao Xiang pair, Gao Hongyan and Gu Yuanxun pair fought into the final after winning two matches successively. The two pairs were of equal strength in the final of the mixed doubles. Their scores rose alternately. Gao Hongyan and Gu Yuanxun pair won the first place with a weak advantage of 2 points after the score reached 15. The wonderful and intense match made the audience excited.

The cheering squads of both sides gave loud shouts in support, and the stadium was filled with intense and exciting atmosphere. After the matches, Zhang Wensong, dean of the School, and Xiao Xiang, Secretary of the Party Committee of the School, awarded certificates and prizes to the winners. The first Table Tennis Matches ended successfully.


School of Business Administration held the series of sports events with "charming sports and healthy us" as theme to deepen the communication between colleagues, improve the physical fitness and mental attitude of the faculty, and promote the school's cultural construction.