Home

>

News & Events

>

Headlines
Dr. David Blackwell, president of University of Kentucky-Business School visits our school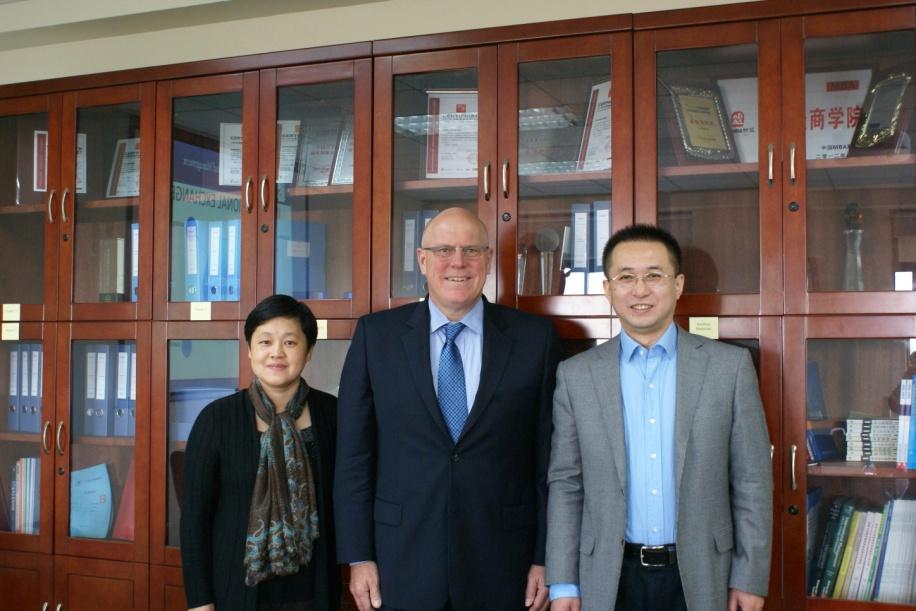 On October 31, 2013, Dr. David Blackwell, president of University of Kentucky-Business School visited our school came over to our school for an exchange visit. Zhang Li, deputy president of our school, and Lu Xiyan, director of International Exchange Center, gave the warm welcome to President Blackwell, and both sides shared a profound discussion over the relevant problems.


Zhang Li presented an introduction of the current development of School of Economics and Management from the perspective of the historical development, specialty setting and favorable faculty and the great achievements obtained by the school in the foreign exchange and cooperation. President David Blackwell expressed his heartfelt thanks to the warm reception from School of Economics and Management and also introduced the development of University of Kentucky-Business School, specialty features and the international cooperation and exchange. Both sides conducted an in-depth discussion over the cooperation opportunity related to the Undergraduate 2+2 Joint Cultivation Program, Undergraduate Exchange Program, Teacher Exchange and Recommended Undergraduate Master Program, etc. David Blackwell also expressed his expectation for the long-term and steady cooperation with our school to continuously seek the new cooperation fields based on the current cooperation model.


University of Kentucky, established in 1965, is a public university in Lexington,Kentucky, currently accommodating 30,000 students on campus, actually the largest university in Kentucky. University of Kentucky is going to all lengths to achieve the goal among the All-America Top 20 Universities. In view of the research funds from the National Science Foundation (NSF), University of Kentucky ranks 36th out of all-America public universities. University of Kentucky-Gatton College of Business and Economics now has 3000 students on campus, engaged in the academic pursuit of such disciplines and specialties as Accounting, Economics, Finance and Math, Management, Marketing and Supply Chain, etc. Particularly, its Accounting Discipline ranks sixth in the USA according to the CPA Pass rate as well as one of the specialties with more employed graduates.