Home

>

News & Events

>

Headlines
Students of 18th EMBA Program go through Outward Bound with better performances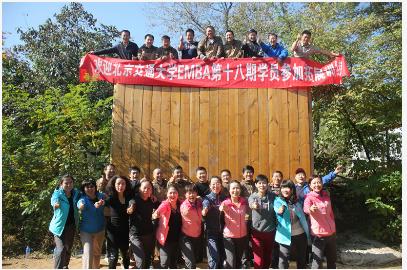 EMBA Education Center made a well-scheduled plan to organize students of 18th EMBA Program to participate in the 2-day

Outward Bound

with better performances.


Outward Bound is one of the features of EMBA Program in Beijing Jiaotong University, mainly involving such items as "Trust Fall, Electric Fences Crossing, Target Market, Broken Bridge, Tangram and Cohesion", etc. The trainees are divided into two teams for the exercise. Each team has a resounding name and works out the inspirational team motto and song coupled with a uniquely designed and imaginative guidon. Each trainee takes his initiative to participate in all items and tries hard to fulfill the team drilling tasks individually or with the joint efforts. Outward Bound aims to stimulate the trainees to make bold attempts, challenge themselves, overcome themselves for the team
spirit of unity and cooperation. They are devoted in completing all drilling items against all challenges through the full trust and cooperation with other students. It is essential to enhance the students' awareness to fully understand the respect rules, division of labor, and formulation of specific strategy, which is of great importance to a team.




In the entire course of the activity, students made a psychological and physiological test, transcended themselves and broke the outdated thinking model, consolidated their challenging confidence and resolution, tempered their willpower, expanded their global view awareness, established the team spirit. With the personal experience and the instructors' delicate instruction, all trainees have the faster integration and assimilation to facilitate them to effectively learn and work and integrate their learning with the activities.
BJTU's EMBA Program has long followed guiding philosophy of "programmatic innovation, full assimilation and mastery, equal development in quality and scale, branding and efficiency harmonious promotion", so the entire teaching system is gradually identified on the basis of the action-learning theory with emphasis laid upon the students' reflection of the strategy, organization and initiative in a bid to continue to expand the international vision of the students.